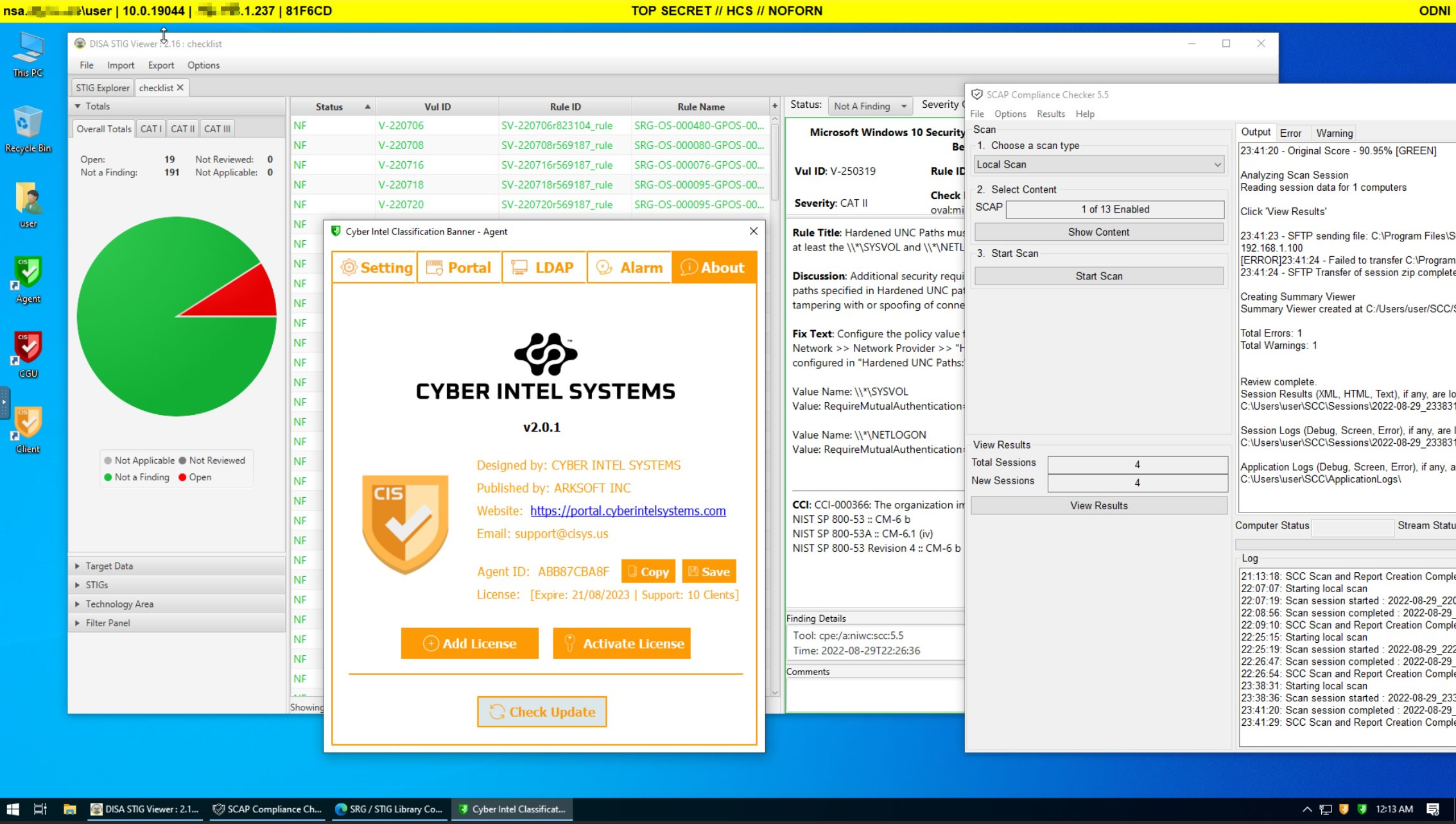 The Cyber Intel Classification Banner (CICB) is also known as the "Classification Banner", "The Computer Banner", "Army Unclassified Banner", "Banner Computer Program", "Controlled Unclassified Information Banner", "CUI Banner", "Computer Information Banner", "Information Banner", "DoD Banner", "Unclassified Green Banner", "Unclassified Banner", "USG Banner", "CUI Banner", "Clearance Banner", etc. The Cyber Intel Classification Banner is software that will display and mark sensitive or classified output across computer screens when required. This is the perfect information classification solution with many useful extended features for the Windows and Linux platforms.
The cyber intel classification banner satisfies Executive Order 13526, ODNI CG v2.1 § 2.3.1, 32 CFR Part 2001.23 / Part 2002.16.a.3, DoDI 5200.48, DoD Manual 5200.1R, ISOO Rev4, STIG V-6146, STIG V-222643, and ECML-1 for marking/labeling sensitive/classified information electronically.
CICB uses color codes for the classification levels used by the government and the armed forces of the United States:
U.S. Department of Defense (DoD)
CLASSIFIED (C, color code: #723d9a)

TOP SECRET//SENSITIVE COMPARTMENTED INFORMATION (TS//SCI, color code: #f7ea48)

TOP SECRET (TS, color code: #ff671f)

SECRET (S, color code: #c8102e)

CONFIDENTIAL (C, color code: #0033a0)

UNCLASSIFIED (U, color code: #007a33)

CONTROLLED UNCLASSIFIED INFORMATION (CUI, color code: #3d1e5a)


Notice: According to CI Policy Publications Update (dodcui.mil), the CUI is not a CNSI classification.

All text content (left, middle, right) and color (text, background) are customizable.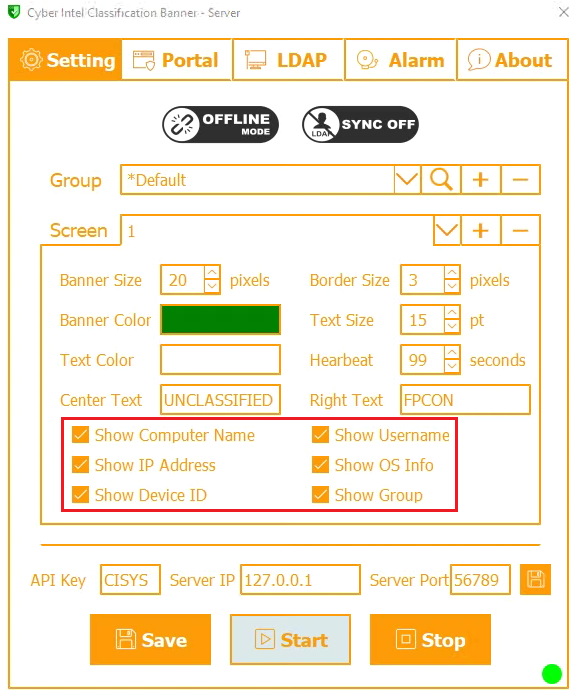 Here are some of our example customers:
U.S. House of Representatives Office
California Governor's Office of Emergency Services
United States Army
United States Air Force
United States Navy
United States Marine Corps
Civil Air Patrol
Massachusetts Institute of Technology
University of Miami
University of Oklahoma
Virginia Wesleyan University
Cochise College
Chicago Public Schools
Other defense contractors and businesses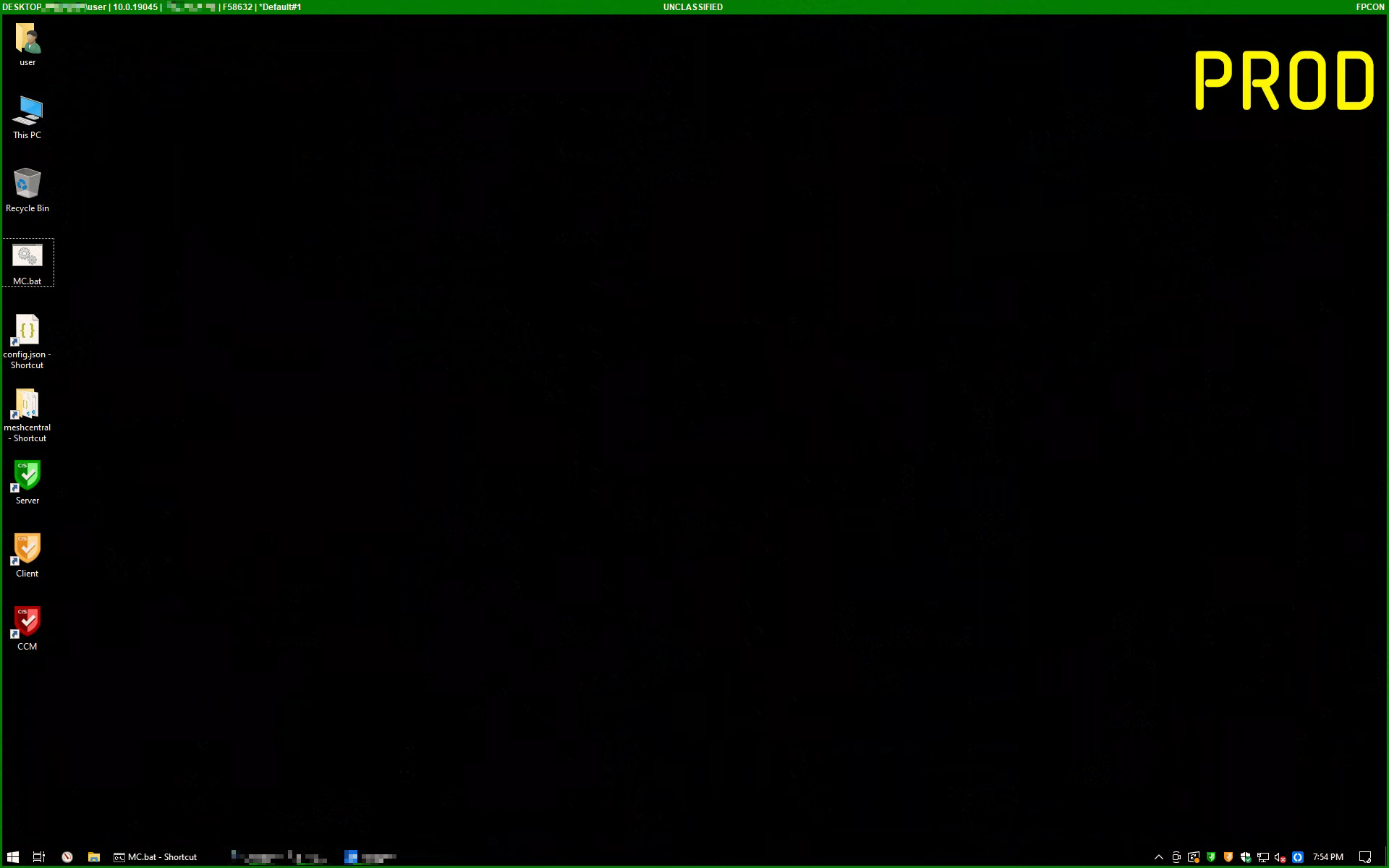 The Cyber Intel Classification Banner is a software tool that helps individuals, organizations, and governments label and display classified information in a graphical format on computer screens. It has been tested on a range of graphical platforms, including Windows 7+, Server 2016+, and Ubuntu LTS 18.04+. The software also allows users to customize the classification text, text color, and banner colors for each Windows environment. It can be installed on both physical computers and virtual machines.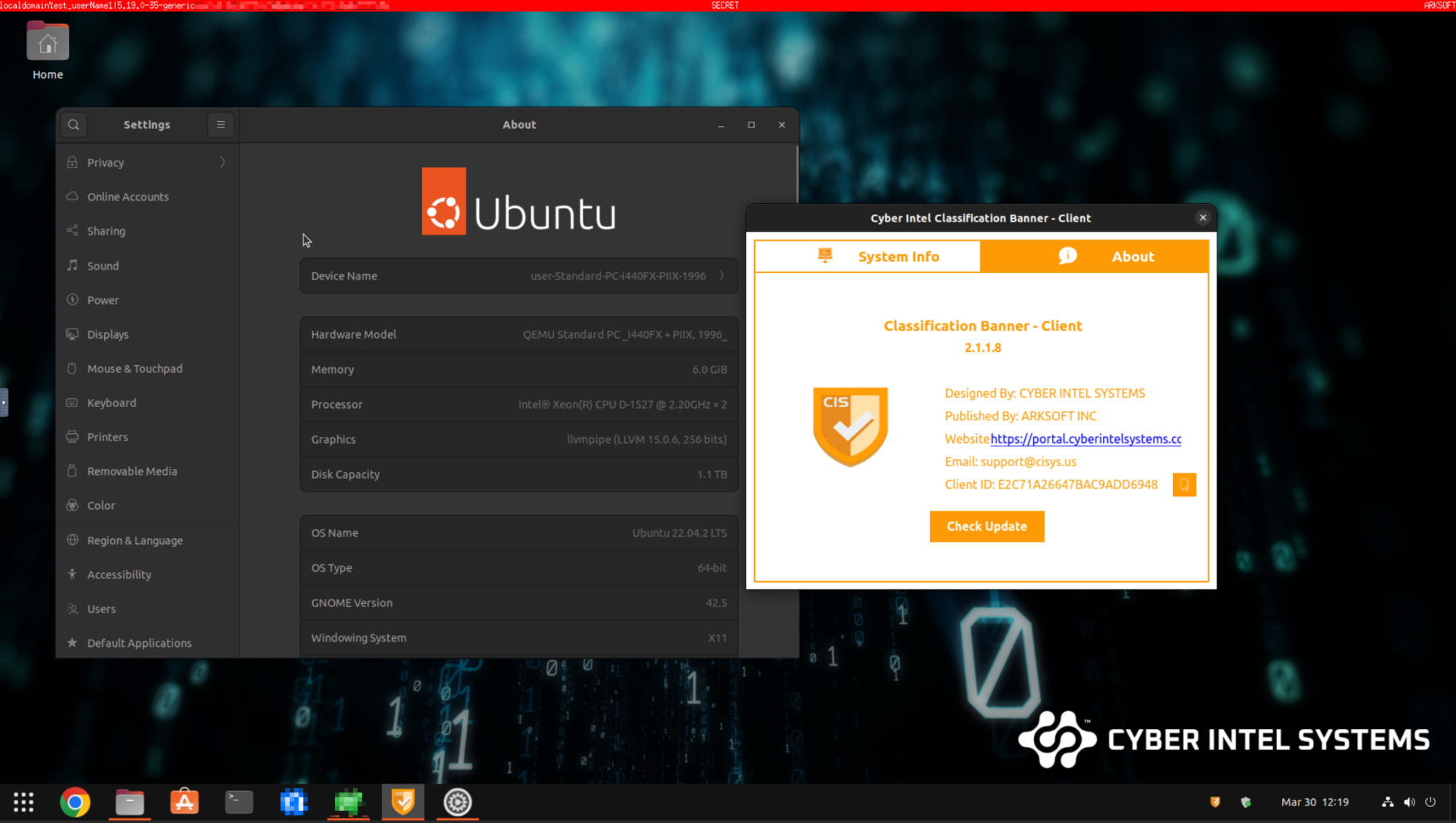 The Cyber Intel Classification Banner is a visual representation of the level of security clearance required to access certain information on the computer screen. It is typically displayed at the top of a document or screen and consists of a color-coded banner that indicates the level of security clearance needed to access the information contained within. The banner may also include a brief description of the type of information that is classified, such as "top secret" or "confidential". This system helps to ensure that sensitive information is only accessed by individuals who have the appropriate clearance level.

You can customize the text color and banner colors to match U.S. government labels standard:
SF706, SF707, SF708, SF709, SF710, SF-FMO, SF712, SF902, SF-CUI, SF-CUID, SF-SAR-P, AEC-RSS, SF-SAR-O
AEC-UNOF, AEC-SNOF, AEC-TS-SAR, AEC-TSSCISAR, AF306, AF307, AEC-NATO-S
AF-714, AF308, AF310, AF401, AF402, AF403, AF404, AF405, AF406, AF407, SF903, AF309, AF408, AF200
NGP-001, NGP-002, NGP-003, NGP-004, NGP-005, NGP-006, NGP-007, NGP-008, NGP-009, NGP-010, NGP-012, NGP-014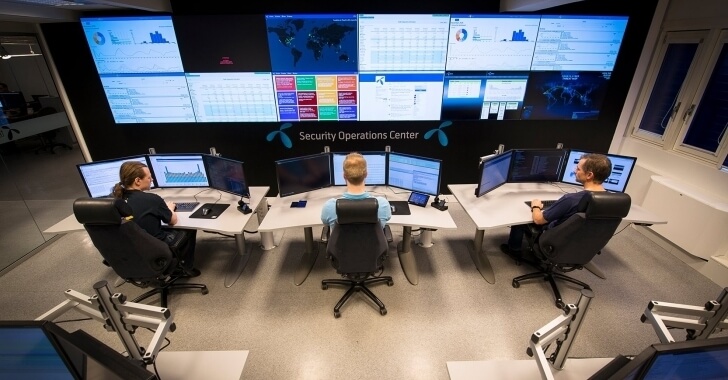 Here are Some of the Highlighted Features
Topmost / Docking Mode
The Cyber Intel Classification Banner will be on top of most of the programs at all times (e.g., Windows Desktop, PPT, MS Team Meeting, Google Hangouts, ZOOM meeting, Slack Meeting, YouTube videos, etc.) However, the Cyber Intel Classification Banner will not be able to be on top of specific game engine programs. (Such as U.S. Navy Seal VR Simulation Software).
Multiple Classifications with Dynamic Changes via AD/DS with LDAP
Our classification banner can sync with AD via LDAP to check on the currently signed-in user's security group and adequately change the sensitive banner level.
Alarm
Our cyber intel classification banner can also be used as a warning broadcasting system like a siren but with computers. For instance, a school/base can push an active shooter warning message to every school/base-owned computer with a siren sound. This banner will display on top of every program with an alarm that the user cannot turn off or ignore to force the user to pay attention to the warning message.
More Features
Please see the feature list here.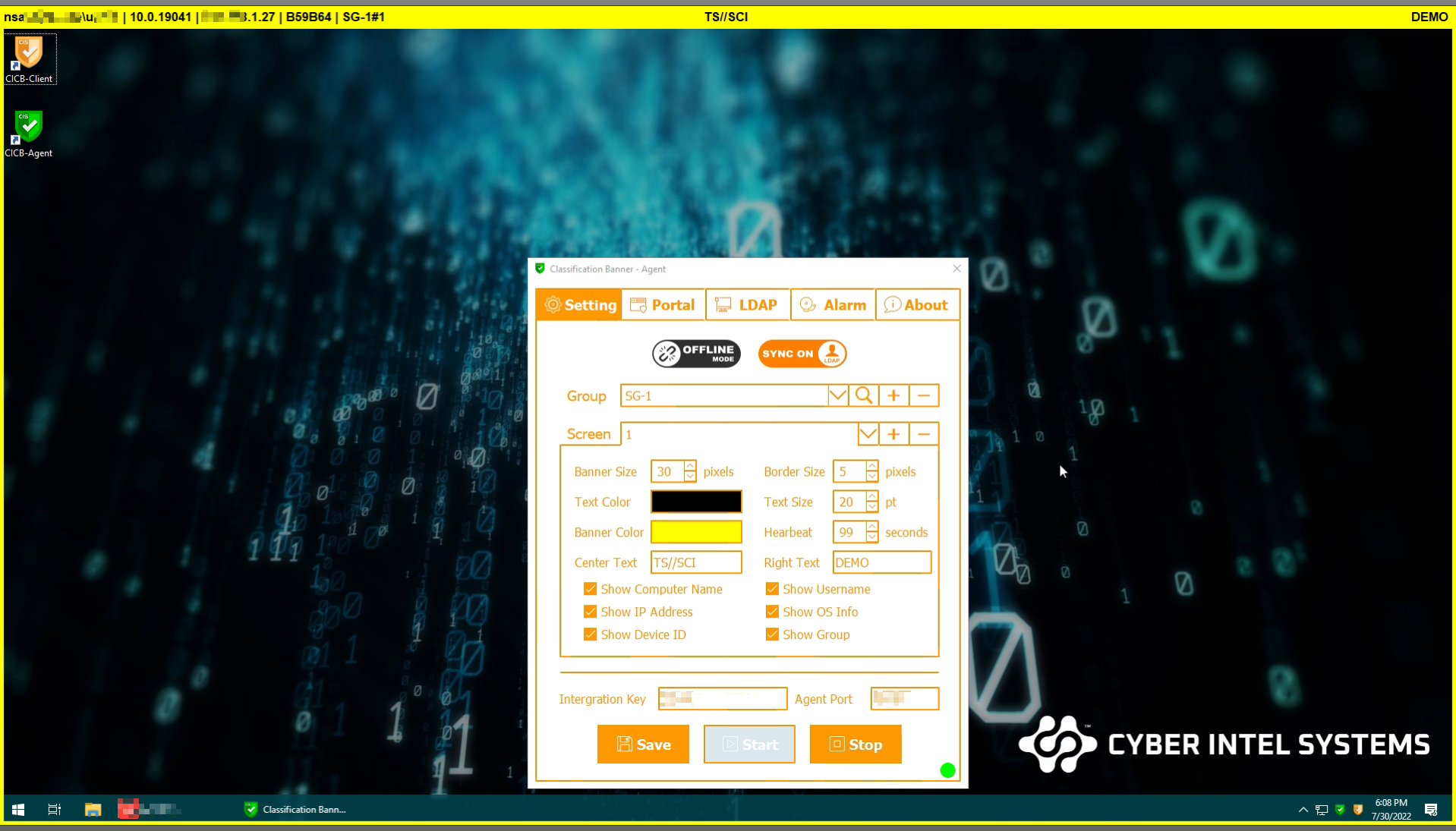 ---
NOTICE
It is important to obtain approval from the appropriate security team before proceeding with any action that could potentially compromise the security of a SCIF (Sensitive Compartmented Information Facility) or any other sensitive installation. This is because such installations often contain sensitive information and materials that must be protected from unauthorized access or disclosure. By obtaining approval from the FSO, ISO, CSO, or other security teams, you can ensure that the proposed action is in line with established security protocols and will not put the installation at risk. It is always better to be cautious and consult with the relevant security team before proceeding, rather than risking a security breach or other negative consequences.
Due to EAR/ITAR/OFAC, we are unable to sell or issue license(s) to individuals or business entities in certain regions.